Welcome
from
The
PGA
Terry
Lewis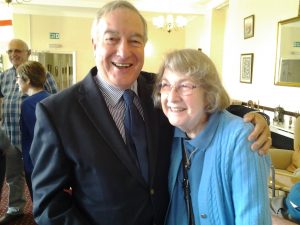 "–but above all the Welfare of your fellow Creatures"
As Lodge Almoners our brief is the wellbeing of all the Brethren in our Lodges. But remember that we are all almoners and that we are charged at each and every Installation, in the address to the Brethren, "that we are the one to whom the burdened heart may pour forth its sorrow, to whom the distressed may prefer their suit."
You are, therefore, not alone in caring for your Lodge but it is your responsibility to make sure that the care is forthcoming perhaps by delegating some of it to the Lodge members. You are the director and co-ordinator of that care.
A bunch of flowers and a card are still important, but remember:-
"You give but little when you give of your possessions. It is when you give of yourself that you truly give." Khalil Gibran, a Lebanese Poet and Writer.
The example you set by your actions will, hopefully, stimulate the interest of all the members of your Lodge and greatly increase the harmony and pride within it.
As PGA, I lead and co-ordinate the activities of the 68 Lodge Almoners within the Province of Suffolk and am assisted in this task by a Group Almoner from each of the nine groups in the Province. My annual report to the Province summarises our work throughout the year. I am responsible for the information communicated in these webpages and for keeping the Provincial Executive informed of news from our Almoners.
To keep in contact with Lodge Almoners , we hold an annual conference in the Province and regular Group meetings. I am also very willing to be invited to speak at individual Lodge meetings. As PGA, I am a member of the Committee of "The Friends of Cornwallis Court" and also represent the Province at regional and national conferences of Provincial Almoners and at meetings of the RMBI. My aim is to keep all Almoners in the Province fully informed and with the tools to do their job.
My work involves co-ordinating the team of 6 Visiting Volunteers who advise petitioners about eligibility, available grants and state support as well as MCF support.I manage the Provincial Almoner's bank accounts and ensure grant beneficiaries receive their payments. This may involve caring for Brethren and dependants who no longer live in the Province. I also oversee the electronic records of all enquiries which are received at the MCF (GAMES).
I visit as many events as possible which are part of the Almoner's role, e.g. Ladies Fellowship lunches, outings, Widows dinners, fundraising events and fetes, coffee mornings at Cornwallis Court, hospital visits etc.
Above all, as a member of the Provincial Executive, I am keen to see that we are a proactive Province where Almoners seek out those who need help. Often, Brethren are too proud or unsure to ask for help and it is our job to enquire tactfully about their needs. One of our most important tasks is to keep contact with members who may not be able to attend Lodge or with whom we have lost contact.
I am always here to help you. Please do not hesitate to contact me.
Terry Lewis
PGA